27 Sep

8 elements that should feature on your product packaging design

There is no magic formula, set template or proven algorithm for the creation of a powerful packaging design. Fortunately so, we say, or else the world would be a boring place. However, in this packaging blogpost, we aim to come as close as possible to offering such a recipe for success.

So, let's assume you've successfully created an eye-catching packaging design with a distinctive brand asset. Now that your packaging has grabbed the consumer's attention, its next job is to communicate.

What does it need to communicate? Simple: tell the consumer what your product is and why they should buy it. That's it. Two questions only that your product packaging design has to answer.

Below, we've pulled together a list of all the 'ingredients' needed to answer these two questions. Be sure to then arrange these elements into a logical, easy-to-follow layout: our recipe for powerful packaging communication.
The necessary recipe ingredients for a successful packaging design
Category or product type
Brand
Variant: for products which offer more than one option
Functional benefit(s): what the product does
Reason(s)-to-believe: why the consumer should find the claimed functional benefit credible
Emotional end-promise or benefit: how the functional benefit fulfills a higher need
Call-to-action: why the consumer should buy it now
Size, weight, content details, etc.: practical information the consumer needs to know
How many of these ingredients have you included in your design? Probably not all of them. In fact, in our packaging design testing practice, we rarely see a product packaging that contains the full list of recipe ingredients. We have, however, noticed that designs which feature more of these ingredients tend to perform better.
We have seen a trend over the past years towards simplifying the 'recipe'. For example, some product packaging designs communicate the promise, but not the benefit or reason-to-believe. The risk with such a minimalist design approach is that the more elements you leave out, the less likely consumers are to 'get it'.
Minimalist design is great for the iPhone or speaker sets, but we find that packaged goods with a minimalistic design often struggle to effectively communicate to mass audiences. They more typically appeal to a niche audience and/or premium segments.
The power of the end–promise on packaging
We've also noticed the benefit of illustrating the end-promise on the packaging. From shampoos promising beauty from shiny hair and skincare products offering eternal youth from radiant skin, to meal kits promising home bliss from a tasty homecooked meal, consumers are more easily persuaded by visual interpretations. Pictures, sketches, or structural shapes and lines offer powerful suggestion and emotional resonance.
The effective rendering of an emotional end-promise is a particular challenge for the newly emerging class of functional foods. A great example is the Brain Juice pack design, featuring an image of a brain that shines as bright as the sun. The Maca Sutra pack design on the other hand misses the opportunity to offer a visual interpretation of the powerful promise of sexual health  – or perhaps subtlety is what they were going for in this case.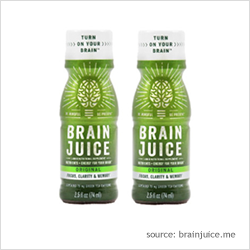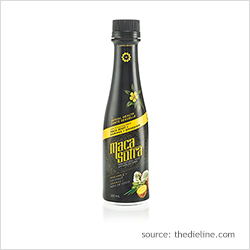 More resources on how to design great packaging
At MetrixLab, we're experts in packaging design testing. Using our extensive experience and benchmark database, we've created a series of guidelines on how to design your own packaging, from visibility, to communication and persuasion. Watch a summary of our package design tips in the below three-minute video. And download our whitepaper for more details on our nine best practices for creating powerful packaging designs.
We can help you create, optimize and validate the strength of your design. Contact us for information on our PACT suite of market research solutions and more packaging design best practices.